Management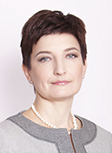 Sukhova Irina
FBK's Vice-President for Corporate Development
Since 1995 Irina is in auditing and consulting business.
As Director of the Department of Accounting and Auditing, has acquired wide experience in the administrative work and management of the firm's largest department.
Has significant experience in managing large-scale projects in auditing and consulting.
Has experience of defending companies against the tax authorities in courts and arbitration courts.
Current responsibilities include a wide range of issues relating to the organisation of the company's operations, including implementing the company's strategy, business expansion, improving the quality of services and developing corporate culture.
Carries out the monitoring of FBK Company participation in the competitive biddings.
Managing and supervising FBK's social and community projects are also a vital part of her work.
Is a member of Working Groups under the Russian Managers Association.

 

Work experience
1995 / present: FBK Ltd.:
1995-1997 - Chief legal adviser, Department of Tax and Law,
1997 - 2001 - Director, Department of Accounting and Audit,
2002 – present - Vice President, Corporate Development.
Education
1999 / 2001 - Higher School of Economics. Major in Management
1988 / 1993 – Law Faculty, Moscow State University. Major – Jurisprudence.
Professional associations
Laureate in the rating "TOP – 1000 Russian Managers" in 2007, 2008, 2009, 2010, 2011, 2012.
Foreign languages
Fluent in English