Management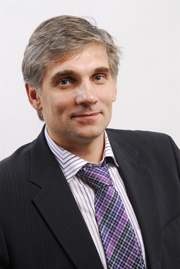 Terekhov Alexey
Partner, FBK's Vice-President for Audit and Consulting Services to Financial Institutions
Alexey Terekhov has been working in the auditing-consulting business since 1996. Has extensive experience in managing large-scale projects in the auditing and consulting business.
During this time, he has managed a significant number of projects (100) concerning audits in accordance with Russian and international standards, advised clients on accounting and taxation, worked on converting financial statements in accordance with IFRS, and financial and management consulting.

Played an active role in creating business development strategies in credit organisations, including: selecting promising sectors of the economy, selecting services, and analysing competitors.
Was manager on audit projects carried out by special commission of the IBRD for banks participating in the Project To Develop Financial Institutions.

Annually takes part in the organisation of seminars and round tables for commercial banks on International Financial Reporting Standards and their application in banking practice.
Responsibility
As the head of FBK's Department of Accounting and Consulting Services to Financial Institutions, exercises general supervision of the Department's work and the quality of audit services provided.
Work experience
1996 – present: FBK Ltd. Vice-President, Auditing and Consulting Services to Financial Institutions. Since 1998, Vice-President, Partner at FBK.
Education
1995 / 1997 - Finance Academy under the Government of the Russian Federation. Banking. Graduated with Honors.
1984 / 1994 - Moscow State University. Faculty of Mechanics and Mathematics. Graduated with Honors. Graduate School.
2006 - Certificate entitling the holder to carry out audit activities in banking auditing
2001 - Certificate entitling the holder to carry out audit activities in general auditing
2007 -  Certificate "Audit and Control of Information Technology (IT)» Institute of Excellence in Management Information Systems (MIS) with a center of excellence Mikroinform.

Professional associations
Member of the National Register of Professional Corporate Directors
Member of the Russian Institute of Internal Auditors
Member of the Association of Independent Directors in Russia
Member of the Expert Analytical Council of the Deposit Insurance Agency State Corporation
Member of the Banks and Banking comission of the Russian Union of Industialists and Entrepreneurs
Foreign languages
English